As our last full day at the beach rolled around we decided it would be best to hang out at the beach and pool and to just relax.  For lunch, we headed to "The Shaggy Marlin" which, to be honest, we didn't really enjoy all that much.  The stools you sat one were something like 5 feet tall, which was really uncomfortable and especially difficult for a pregnant lady and the food was only marginal, as was the service.  But who knows, maybe we had been spoiled by top notch dining and our expectations were unreasonable.
After lunch we milled around the beach for a while, drove around a bit and just generally enjoyed hanging out together without partaking in too much of an event.
For dinner, we headed back to Pier Point to see some live music and experience the German restaurant, Hofbrau Munchen.  The most notable thing we had was the absolutely amazing pretzel.  We also enjoyed their house polka band and their upbeat staff.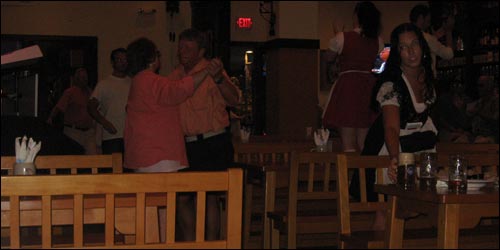 Afterwards we headed back to the condo to enjoy our last night at the beach.