In the last post I promised some pictures so this post will have said pictures.  I'm not posting all of our ultrasound pictures here, because if I did that then what would be the added benefit of actually knowing us?  I mean, if you could come to our site and get all the pictures you wanted why would you call us up and have dinner with us?  That's right, this is just a teaser, if you want more pictures of the baby then you have to take us to dinner!  We're holding the rest of the pictures hostage!  So… um… captions follow each image.  Enjoy (then take us to dinner)!

A pretty good shot that proves she's not a manatee after all.
She's an alien!  Not a manatee, an alien!!!  I will ZAP you white bread!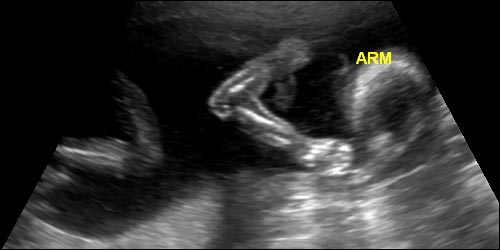 To prove she meant business, she flexed for us.