Another morning into the afternoon was spent hanging out on the balcony.  I think we justifiably can't get enough of hanging out on the amazing balcony attached to our condominium.
Eventually we got hungry and headed to the original Montego Bay to have a couple of Superdiver Burgers, one of their local favorites.  The restaurant was packed and service was really slow, according to our waitress one of the cooks had cut himself and had to be rushed to the hospital.  Our burgers were great and we found no trace of human fingers in them.  The couple next to us was one of the unsufferable older couples who simply refused to be happy.  The man insisted on pointing out inaccuracies in the menu, right down to the fact that the "pictured whitefish on the menu is, in fact, Cod and not Grouper."  Maybe we're the only people who go on vacation to relax?
After lunch we decided to spend the day on the beach.  We headed down and met Jimmy, the guy who puts out the umbrellas and beach chairs.  After talking to him for a while we found out that he had been doing this job for 40 years.  We thought that was pretty impressive.
We had decided to write Bree's name in the sand so we could take a picture of it and have the picture blown up to hang in her room.  As part of the process, I wanted to find a shell that I could use to write her name that we could later give to her.  While we were looking for shells, which is not an easy task at this very, very scoured over beach, we noticed a big guy a little way down the beach also looking for shells.  More on that later, but I found a shell and spent some time writing Bree's name and having Mel try to get a picture before the waves washed the name away.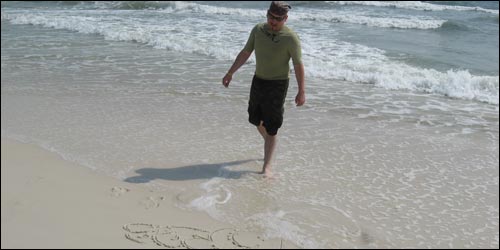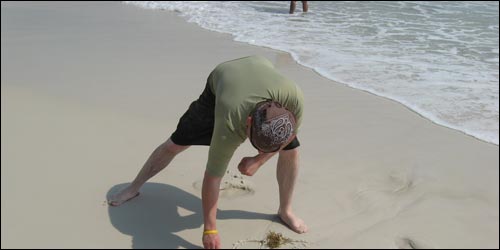 After writing Bree's name in the sand we headed down the beach a bit.  We had seen three or four rays playing in the waves there earlier from our balcony and I wanted to see if they were still there.  We found them and I headed about waist deep into the water to get a better look.  These things were going crazy, they would actually swim up into the waves to look at you, it was pretty cool.
After an hour or so of that we decided to head back to our room to get ready for dinner.  When we got back to our chair, we noticed that a perfect little shell had been placed on our stuff.  I assumed Mel had found this shell and I think she assumed that I had, we didn't talk about it.
On our way back to our room we saw the guy I mentioned earlier who had been looking for shells on a balcony on the first floor of the building.  He stopped us and asked if we found the shell on our chair.  I told him we had, he said he found that for our baby and wished us well on our pregnancy and parenthood.  People are so nice everywhere we go, it's amazing.
For dinner we headed to Captain Anderson's, which is one of our favorite places to go in Panama City Beach.  You'd be hard pressed to find better and fresher seafood than at this place and it didn't disappoint tonight.  I had Lobster Bisque (the best I've ever had by a large margin) and Scamp Imperial (again, unbelievable) and Mel had a Pork Chop (I know, I know).  For dessert Mel got Almond Florentine and it was so good she described it as "life changing."  She ate the entire thing… I have no idea what it tasted like.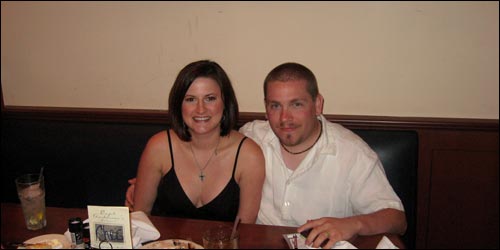 We had planned to play miniature golf, but my ankle was still hurting pretty badly so we went back to the condo and watched "My Super Ex Girlfriend" and hung out on the balcony.