Mel and I have been to Chicago.  We've experienced the wind off of Lake Michigan and have been subject to the gusts that nearly knock you down.  But we have never, ever experienced any fair weather wind like we experienced in Panama City Beach on this vacation.  It was quite literally blowing our Jeep Grand Cherokee from side to side.  It was fun most of the time but made eating outdoors more of a practice in synchronized napkin juggling dance than anything else.
So we headed to Schooner's, figuring if we were going to eat in the wind it should at least be in the most difficult place possible to do so.  Schooner's is a great place because it's one of the last local beach clubs in Panama City Beach.  There's a lot of walk up patrons, who head to the bar to get drinks or grab a quick bite to eat.  This makes people watching really fun, which is something Mel and I enjoy doing.  Mel got a Chicken Basket and I chose their Group Basket which was basically their version of fish sticks, which turned out to be unbelievable.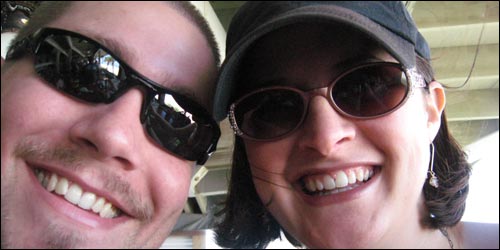 Because the wind was so fierce we decided to just roll down the windows and take a drive up the coast.  We stopped by and grabbed some shaved ice from Sno-Biz and headed North, up past Sea Haven.  After seeing enough from driving we decided to head back to Pier Park to check out parts of the mall we hadn't yet seen and to grab some pictures of the place.
After taking a while to look around Pier Park yet again we headed back to the room to take a nap until dinner.
For dinner we headed to Pompano's where Mel had a New York Strip and I opted for Shrimp Pompano which is fresh gulf shrimp wrapped in bacon, basted with a really, really good sauce and grilled.  This turned out to be one of my favorite meals while we were on vacation.
After dinner we went shopping, because we had promised our niece that we would bring her something back from the beach.  We got her an airbrushed shirt, a shell "you can hear the ocean in" and a hermit crab.
After shopping we were ready for desert and Mel had Marble Slab on her mind.  So once again we headed to Pier Park to get some ice cream.  While we ate ice cream we walked around until I felt like my foot was going to fall off, then we headed back to the condo for the night.