Eight years ago today Mel and I were smack dab in the middle of a dozen or so very excitable people as we finally got married and started our journey not only into life, but towards Grand Cayman, together.
We had originally planned to take a day trip to Rum Point on our anniversary. But like most of our other plans so far, they required some adjustment to be ideal. Instead, we decided to stay at the hotel and hang out on the beach for the day (something we hadn't done yet). Armed with plenty of sleep yet again we headed down to the beach to see just how clear the water really was.
It didn't take us long to take advantage of the beach-front cafe that Westin had provided. I had my second Caesar Salad with chilled shrimp of the trip (they're SO good) and proceeded to hang out under an umbrella for the next couple of hours.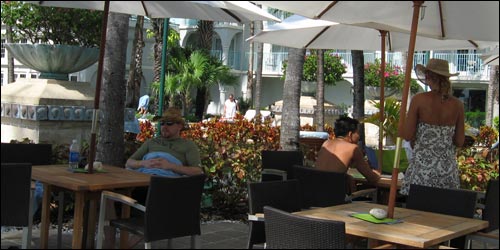 As the day began to turn into the evening and the sun started lowering itself into the Carribean Mel and I decided to have our first snorkeling adventure. Now I have been snorkeling before, but never in the Carribean and Mel… well Mel has never been. We quickly learned two things once we started swimming around: A) The floating border around the water 30 or so yards off the beach is NOT a barrier and; B) Sting Rays are absolutely not shy.
Our first time out we saw a small Sting Ray, several scurrying crabs and a larger ray just before we headed in. Needless to say, I think we're hooked on snorkeling in the future and possibly scuba diving.
For dinner we had gotten a recommendation from one of our new Caymanian friends that the "Grand Old House" provided great anniversary dinners as well as an authentic and traditionally decorated Caymanian atmosphere. So with reservations in hand we had the hotel hail us a cab (where we met another new friend) and we headed south of Georgetown for dinner on the ocean.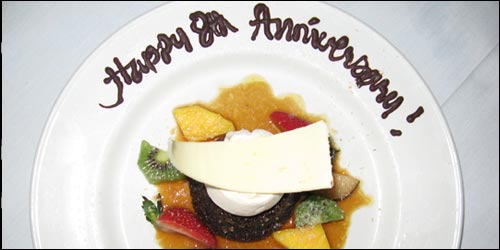 Dinner was great, albeit a bit pricey for what we got. The environment was wonderful and the staff were outstanding. The most interesting event of the evening, however, was the feeding of the fish that apparently occurs nightly at the restaurant. We saw Tarpon, a Nurse Shark and even (briefly) a Moray Eel.