We decided to finally pry ourselves out of bed for Monday and take a trip to Grand Cayman's only city, Georgetown. It was Georgetown that we originally saw eight years ago on our honeymoon cruise which made us want to return. So here we are, eight years later, anxious to see what has changed.
Instead of taking a cab to Georgetown we decided to take the bus which costs about 1/4 as much. After waiting in the unbelievably hot sun for 15 minutes or so our bus finally arrived and we were off for a day of shopping and seeing the town.
Once we arrived in Georgetown we began to wander around. Our intention was to find somewhere to eat. The first restaurant we thought about was an Italian place called Casanova's that our new friends at the hotel had recommended. Mel didn't feel like Italian, so we set off to see what else we could find. An hour later… after walking in the 100+ degree heat we asked directions from a DHL driver in a strip mall which was definitely not meant for tourists. Don't get me wrong, it was nice, but we were definitely outside of the tourist area and in someone's neighborhood at this point. The driver directed us to go back from whence we came.
After a second stop for directions we finally wandered into… of all places… Casanova's. I've been married to Mel for eight years now and we were together for two prior to that. I've never seen her sweat so much. We were seated in a nice, air conditioned restaurant full of nothing but locals on their lunch breaks. After 10 minutes of us taking turns going to the restroom to wash up we were finally ready to give the less than happy waiter our order.
Once we finally cooled down and started looking around we noticed something really cool, the Carnival Cruise Lines ship, the Imagination was in port. The significance of this is that is the exact ship we had arrived on in Georgetown eight years earlier!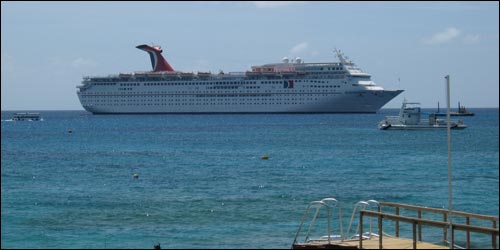 After snapping a few pictures and enjoying our (very, very, very good) lunch we decided to head back out into Georgetown armed with the knowledge that you don't stray far from the main road.
Georgetown is a very interesting place. It's the only place on the island we found where things feel less than 100% laid back. There is a mix of locals in business suits carrying out their daily tasks, locals who are casually shopping, tourists who are in from the resorts and tourists who are in from the docked ships. Each different group is very easily identifiable by their stress level and it makes for an odd mix.
Earlier this morning we heard some locals arguing about how many ships were docked today. The argument (the first we had heard in the islands) seemed odd to us until we got to Georgetown. There were three ships docked at the time and the place was shoulder to shoulder no matter where you went. Then… suddenly at 4:00PM the town cleared out (the ships all left). It was like everyone disappeared and we had the place to ourselves. So we took advantage and hit nearly every store we could find. We bought several souvenirs and had a blast wandering the town (once we learned our way around).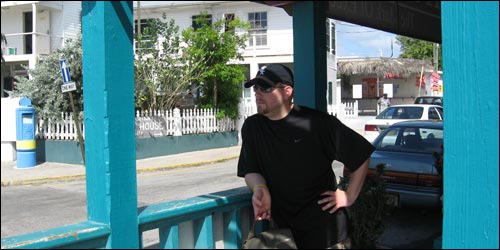 Once we decided to head back to the hotel it was, coincidentally, quitting time for the locals working in Georgetown. Our bus trip back included many of the locals who were headed home after a hard day's work and it make for a much more colorful and enjoyable trip.
We finally arrived back at our hotel, got cleaned up and headed out for dinner at Yoshi's Sushi Bar across the street from the Westin. We were absolutely not disappointed in this choice of restaurant and even made a new friend while there. The sushi menu is huge and there are some really interesting items on it. If you ever find yourself here however, you absolutely must order an H6. Trust me, you'll thank me later.